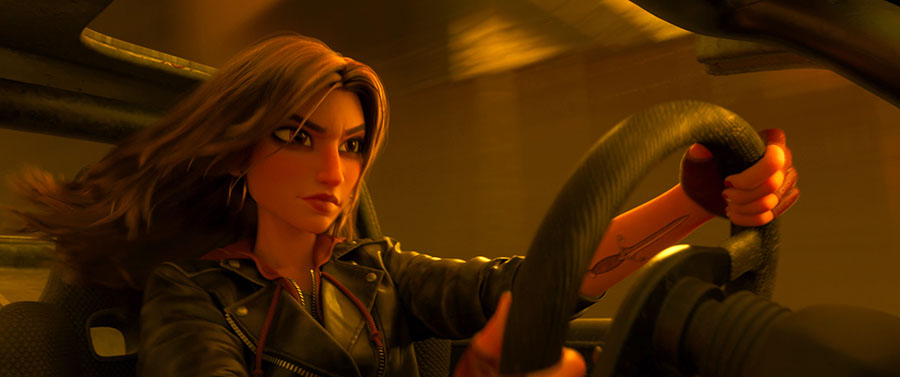 With the Oscar-nominated Wreck-It Ralph, Disney tapped into nostalgia for all kinds of video games, from 1980s classics to modern-day standards for various age groups. This fall, the animated feature's sequel will enter the much larger arena of the internet. Titled Ralph Breaks the Internet: Wreck-It Ralph 2, the movie will feature an array of jokes for all ages involving Wi-Fi, eBay, traffic-baiting listicles, pop-up ads, and simple app games for toddlers.

The sequel will also feature the voice of Gal Gadot as a street-racing character called Shank, pictured above. The Wonder Woman star joins the main voice cast of the original plus some pretty big guest stars from Disney's past and present. Find out everything we know about Wreck-it Ralph 2 below.

Who is back for the sequel?

Ralph and Vanellope are once again the main characters in the Wreck-It Ralph sequel, with John C. Reilly and Sarah Silverman reprising their respective voice roles. Reportedly we'll also see Fix-It Felix, Jr. (Jack McBrayer) and Sergeant Calhoun (Jane Lynch), who were married at the end of the first movie, while Alan Tudyk apparently has a part but maybe it'll be a new character rather than King Candy again. Off-screen, director Rich Moore, who also worked on Zootopia, is back at the helm, now with help from promoted returning screenwriter Phil Johnston (also of Zootopia).

What new characters will be introduced? 

Taraji P. Henson is one of the newcomers to the sequel, as an algorithm named Yesss, while Gal Gadot will voice a "tough-as-nails" street racer from a game called "Slaughter Race" named Shank. Obviously, she's a bit of a nod to Gadot's role in the Fast and Furious movies. At first, she's a competitor for Venellope but then becomes a sort of big sister figure for the returning character. 

"Shank is amazing at driving cars and has this bad-girl vibe to her," the Wonder Woman star says of her role. "But as the movie goes on you realize how fun, wise and warm she really is on the inside, which is what I like most about her."

These aren't necessarily brand new characters, but all the major Disney Princesses are expected to show up, with all those original voice actresses who are living (including Jodi Benson, Ming-na Wen and Idina Menzel as Ariel, Mulan and Frozen's Elsa, respectively) reprising their roles. The newest Princess, Moana (voiced by Auli'i Cravalho), will appear, plus characters from the Star Wars and Marvel Cinematic Universe franchises.

What is the plot this time?

The teaser makes it out rather simply: the owner of the arcade plugs the games into the Wi-FI, and Ralph and Vanellope curiously enter the internet. Why they go there is also in the search for some sort of replacement part needed for Vanellope's game, Sugar Rush. Here's Disney's official synopsis:

Ralph Breaks the Internet: Wreck-It Ralph 2 leaves Litwak's video arcade behind, venturing into the uncharted, expansive and thrilling world of the internet—which may or may not survive Ralph's wrecking. Video game bad guy Ralph (voice of John C. Reilly) and fellow misfit Vanellope von Schweetz (voice of Sarah Silverman) must risk it all by traveling to the world wide web in search of a replacement part to save Vanellope's video game, Sugar Rush. In way over their heads, Ralph and Vanellope rely on the citizens of the internet—the netizens—to help navigate their way, including a website entrepreneur named Yesss (voice of Taraji P. Henson), who is the head algorithm and the heart and soul of trend-making site "BuzzzTube."

Is there a trailer? 

Yes, there are two. In the first, a teaser trailer, we see Ralph and Vanellope von Schweetz enter the wide world of the net and end up inside a game that starts off very adorable and zen but then takes a very dark turn for the worse. As Vanellope says of another encounter, "Yeah, that one's really gonna haunt me for awhile." Fans of Disney movie Easter eggs will also be wondering: is that Baby Moana in that car seat who is traumatized by Ralph and Vanellope's interference in her pancake/milkshake game? 

The first full trailer reveals more of the plot and is a must-watch for everyone who visits the internet — there are nods to all sorts of websites, including Oh My Disney, of course — and especially fans of Star Wars and the Disney princesses. Watch it below.

When does the movie come out?

Disney will release Wreck-it Ralph 2 on November 21.