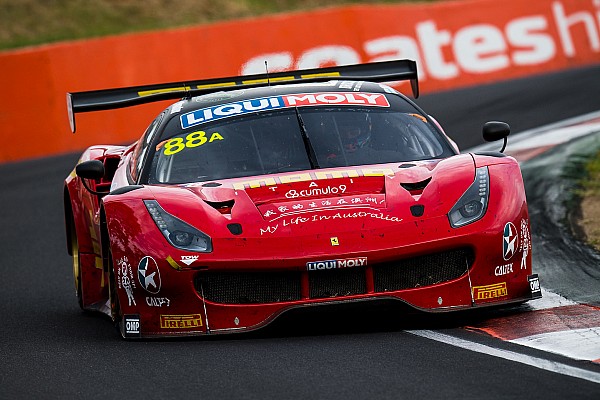 The 2017 Bathurst 12 Hour has come down to a four-car fight, with Toni Vilander in the Maranello Ferrari holding a narrow lead with three hours to go.
Vilander leads thanks to an on-track altercation between Patrick Long in the #12 Competition Porsche and Maro Engel in the #22 HTP Mercedes, who still sit second and third respectively, while Oliver Jarvis is fourth in the #17 Bentley.
Currently sitting behind the Safety Car, Vilander leads Long by 5.6s, Engel a further seven seconds back, with Jarvis 24s behind the leader.
The third quarter of the race started with the #22 HTP Mercedes and the #88 Maranello Ferrari continuing to do battle at the front, the pair running nose to tail, van Gisbergen in the Mercedes and Craig Lowndes in the Ferrari, until a Safety Car sparked a fresh round of stops with just over five hours to go.
That saw the #88 Ferrari move back into the lead, the Maranello squad opting to forego new tyres as Toni Vilander jumped on board in order to beat Craig Baird in the AMG GT3 out of the pits.
The order remained stable until a Safety Car with just over four hours to go, which saw the two leaders pit, as well as the #12 Competition Motorsports Porsche, while the #17 Bentley stayed on track to shift into the lead.
With the #88 making a pad change at that stop, the new order was #17-#22-#12-#88, the cars almost running nose-to-tail.
The next big shake up came with three-and-a-half hours to go, and this time the action was on-track, not in the pits. Patrick Longmade a lunge on Maro Engel for second place at The Chase, tagging the back of the Mercedes and sending it into a spin. Long ran wide, and Vilander slipped into second and set after the leading Bentley, Guy Smith at the wheel.
The Finn quickly reeled in the 2.3s gap to the leader, re-taking P1 with three-and-a-quarter hours left to run.
Long, meanwhile, was hit with a drive-through for his bump-and-run on Engel, dropping to fourth and more than 30 seconds behind the leader.
His saving grace was a Safety Car just over three hours from the end, which helped him back into second as Engel and Smith both pitted, Oliver Jarvis taking over in the Bentley.
Behind the Top 4, the #912 Walkinshaw Porsche is still the last car on the lead lap, Liam Talbot currently behind the wheel.
The #24 Nissan GT-R was the hard luck story of the last three hours, its chances of a podium disappearing thanks to a gearbox issue. Todd Kelly was forced into the garage during his stint, the repair taking three laps and dumping the GT-R from fourth all the way down to 10th.