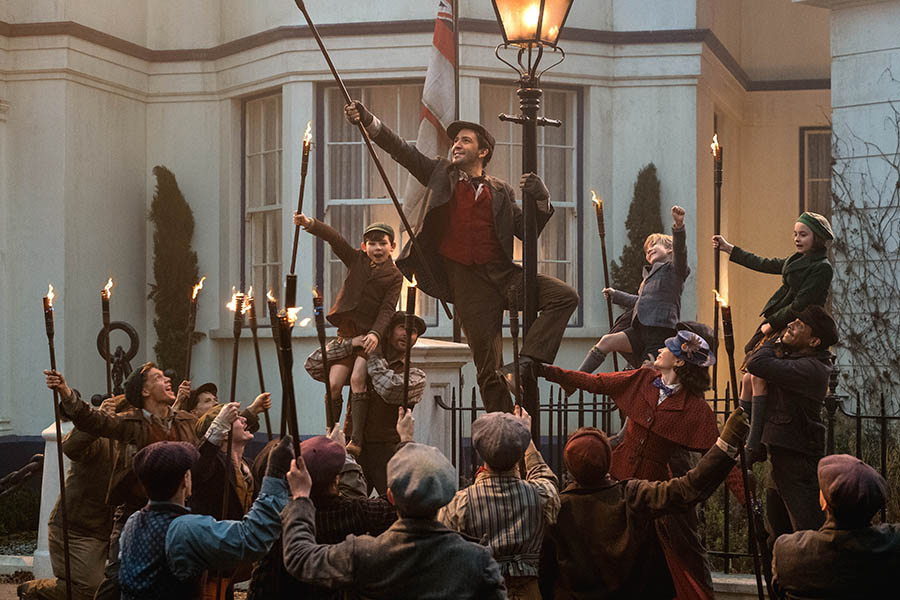 In an abandoned section of an old park in Depression-era London, with streets so dark, shadows merely shimmer like suggestions of shadows, a group of lamplighters – clad in jackets, vests, and clothes that would be almost dapper if not how worked-in they look – gather beneath streetlamps with ladders and on bicycles.

They're performing "Trip a Little Light Fantastic" – an energetic, contagious song and dance number – the song in the forthcoming Mary Poppins Returns that is a nod to the first film's chimney sweep number. The men climb ladders and lampposts, roll through on bicycles and display kinetics that require some of their old-fashioned looking costumes incorporate Lycra, as a crowd of reporters gets to watch and learn that Director Rob Marshall loves numbers that blend different heights as this one. Nearby, on another soundstage, is a to-scale set of Big Ben's face that will figure in to the end of the film, and though reporters at this set visit didn't learn how, one has to assume its height and scope must have likewise inspired Marshall.

The athleticism and street aesthetic call to mind Gene Kelly's famous puddle-stomping sequence in "Singing in the Rain," but with London flair, and even with just this two-minute sample to go by, one can predict Poppins truists are going to be all-in for the sequel's musical numbers.

Lin-Manuel Miranda, who plays Jack a lamplighter (or leerie) who's tapped into the magic of Mary Poppins thanks to a kinship with chimney sweep Burt (Dick Van Dyke), leads the leeries in this riotous number that also featured Mary Poppins and the new Banks' children. (Set 24 years after the original, these are the kids of the first film's Michael Banks, who get a visit from Mary Poppins after the family suffers a heartbreaking loss.)

Aside from enjoying a dream-come-true moment for a dream he "didn't even have the audacity to have" – dancing with Mary Poppins – Miranda said he wanted to be part of the film for the music, and for Marshall. "I think Rob Marshall's the best at making movie musicals. I think Chicago is the best movie adaptation of a musical, which is the hardest thing to pull off," Miranda said during a set visit last year. "…He was born in the wrong era. If he were born during the MGM unit, there'd be tons of Rob Marshall classics, so seeing him get to work on an original musical is really thrilling because you're there from the ground up."

For his part, Marshall is getting to do something he's always wanted to do. "The musicals I've done on film have all been Broadway transfers: Chicago is a Broadway show, Nine was a Broadway show, Into the Woods was a Broadway show, where you had the challenge of opening it up to film. I've always, always, always wanted to do an original musical for film, like from the golden age of MGM under Arhtur Freed's unit where they would, say, create a movie for Fred Astaire."

So, with songwriters Marc Shaiman and Scott Wittman (who also penned music for the Hairspray and South Park movies, among others), Mary Poppins Returns has a songbook that seeks to be as memorable and sing-alongable as the first film, when Disney duo (and brothers) Richard and Robert Sherman let loose with songs including "Spoonful of Sugar," "Supercalifragilisticexpialidocious" and "Feed the Birds."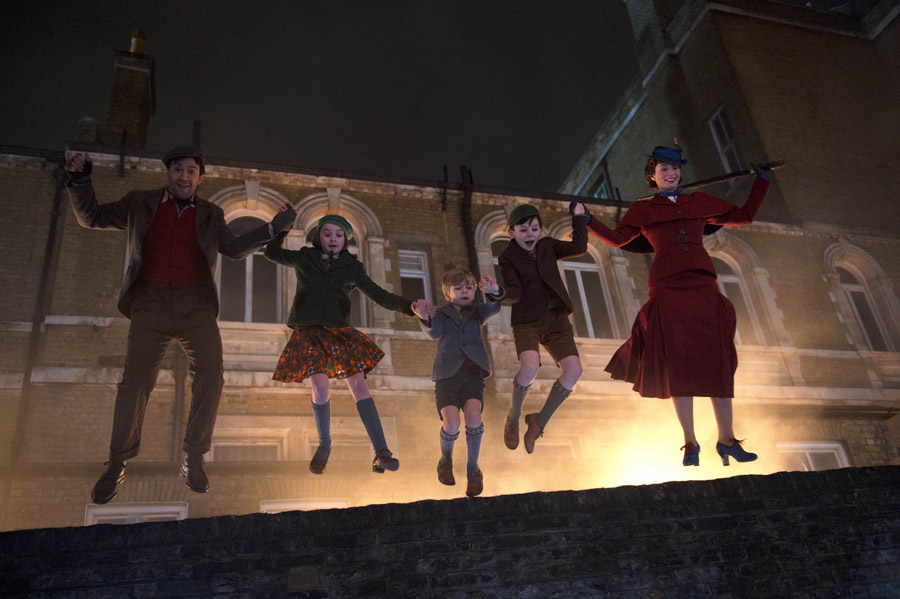 Here's a quick peek at some of the other songs audiences will be hearing when the film releases December 19. (Beware, some of these write-ups may border on spoilers, so tune out now if you want to be surprised!)

"A Cover Is Not the Book" / "The Royal Doulton Music Hall" – If you remember tap dancing penguins from the first Poppins, not to mention the magical moment of seeing a live-action Mary and Burt cavorting with animated characters, well, here's where the two worlds – and looks – collide again. Instead of a chalk painting, the songs play out against the painted designs of a Royal Doulton China bowl – a nice thing, since the lines of a bowl greatly suit Director Marshall's preference that musical numbers incorporate curves – it's better for dancers. The Music Hall is arrived at when the Banks children are fighting and break a piece of the bowl that features a carriage wheel. The bowl – made by Production Designer John Myrhe's team to look like the Carriage Day pattern manufactured by actual London company Doulton China – can only be fixed, per Mary Poppins, by going inside the bowl. The production team made several copies of the Royal Doulton bowl and each one features modifications, including a design where Mary Poppins and Jack are depicted in the paint work. (Royal Doulton was fully on-board with the idea, Myrhe said.) The musical number's cast includes characters from the bowl – where they children thought they'd always been looking at the backs of people painted on the bowl, once they're in the world of the bowl, they discover everyone who lives there is actually a talking animal.

"Can You Imagine That?" – For all her sternness, Mary Poppins is prone to throw a little magic into the mundane (anyone who remembers "Spoonful of Sugar" about cleaning your room) This number takes a child's distaste for baths (and perhaps fear of going down the drain) to reveal the world on the other side of the stopper: an underwater flght of fancy.

"The Place Where Lost Things Go" – This song, which you can hear parts of in the film's first trailer, is Mary's ballad about loss, and promises some teary eyes. "There's some beautiful music about what happens when you lose someone," said Producer Marc Platt.

"Under the Lovely London Sky" – While the first Mary Poppins was shot on Disney soundstages, this sequel made its way to London, and – though much has still been created on sets — production designer Myrhe said the filmmakers wanted the movie to serve as "a love letter to London." Lamplighter Jack (Miranda) – who through his profession knows every nook and cranny of the city — opens the film with this song, and brings the audience to the streets of London. "So the very opening of the film, we see dawn breaking through the fog. We see the Thames, we see Parliament, we see Big Ben, and that feels pretty Londony to us," Myrhe said. "And then through a whole series of real locations, they're going to go by Tower Bridge, St. Pauls, Borough Market, through the parks, before we end up at Cherry Tree Lane (where the Banks family still lives)."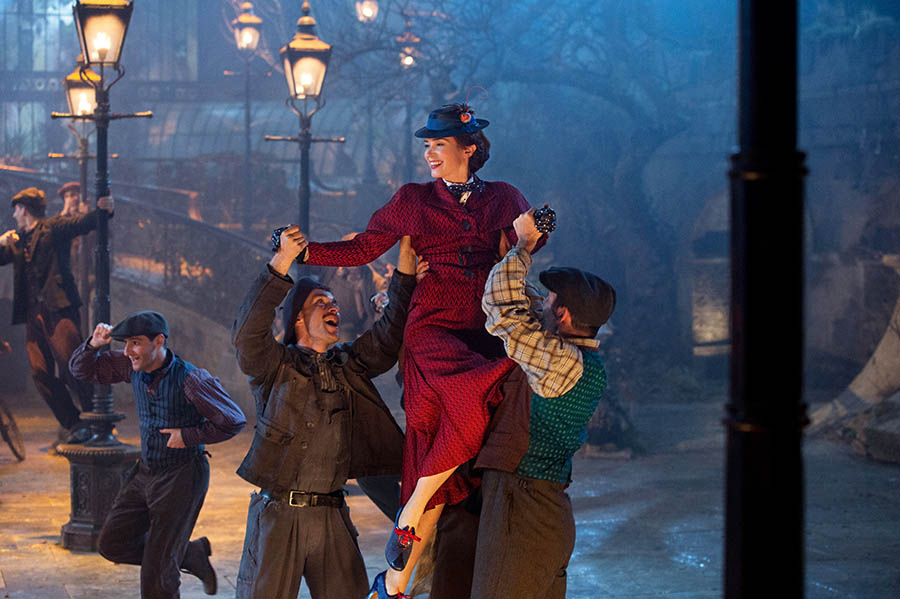 "Turning Turtle" – If you cast Meryl Streep in your musical, audiences want to hear her sing. Streep, who plays Poppins' eccentric and bohemian cousin Topsy (from the P.L. Travers' books), lives in a shop that turns upside-down each week. It's here, on a set where Topsy's myriad knick-knacks are glued to the ceiling, that Streep's number takes place. Costume Designer Sandy Powell had to design with this in mind. "The dance number is so energetic and there's a lot of spinning and turning upside down. I knew I couldn't do a skirt – we'd be in trouble," Powell said. "So I knew I had to do trousers of some sort." Thus, Topsy dons an exotic hareem pant, and lots of fringe, per Marshall's specification. "He wanted fringe for movement so I started with the fringing and worked from there," Powell said.

"Nowhere to Go But Up" – Filmmakers were thrilled to have Angela Lansbury, who will take on the part of Travers' Balloon Lady character for this number, set at a park abloom with cherry blossoms (nearly one million of them, placed by hand on bare winter trees used at other parts of the film).

Check out the featurette below. Mary Poppins Returns releases on December 19.