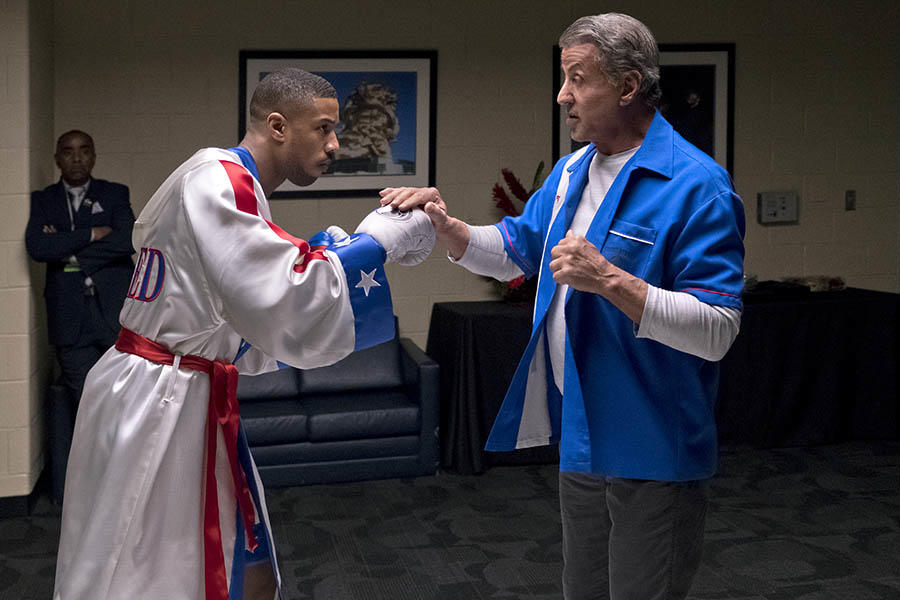 Photo Credit: Barry Wetcher / Metro Goldwyn Mayer Pictures / Warner Bros. Pictures.

"The eighth Rocky film? No, no, no.  This is the second Creed film." – Michael B. Jordan

"I think it's fantastic.  I think it's going to be even as good as the last one or maybe even surpass it." – Sylvester Stallone

"The first Rocky film is a love story, so, that's always the strength of these films is the interpersonal relationships and what's happening inside the character's life." – Tessa Thompson

"It's its own thing." – Steven Caple, Jr.

Three years ago, the Rocky franchise got an addition to the family:  Ryan Coogler's Creed, the story of Adonis (Michael B. Jordan), the son of Apollo Creed, Rocky's opponent in the ring, and his great friend. Penned and directed by Coogler (Black Panther, Fruitvale Station), Creed not only won over the old school Rocky fans and critics, it also successfully introduced the world of Rocky to a new generation of movie-goers. The question is whether the upcoming sequel, Creed II, will be the next champ.

Fandango got a sneak peek at the film during a recent set visit where the cast and director weighed in on the film, their roles, and working with each other. Between conversations with the cast, and the filming of some visually stunning moments, it was obvious to me that director Steven Caple, Jr. (The Land) is bringing a fresh vision to the franchise and is going to give the audience something they haven't seen before.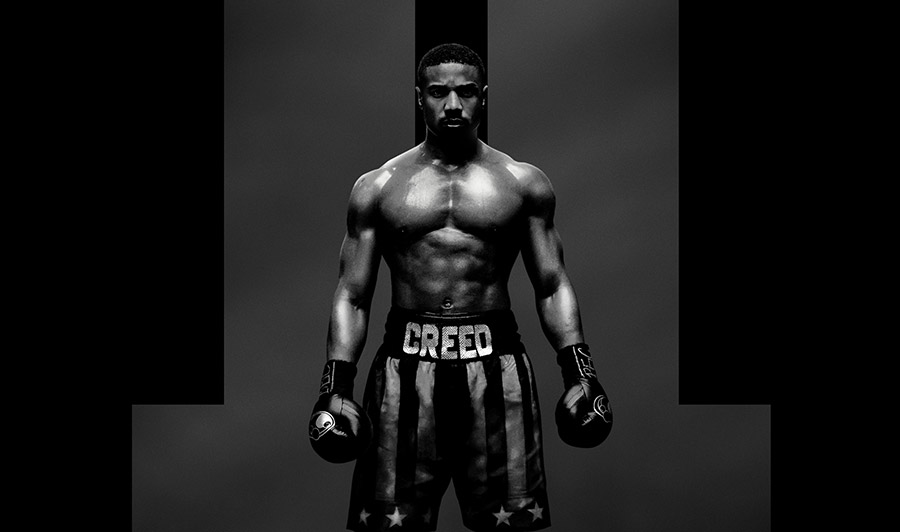 © 2018 Metro-Goldwyn-Mayer Pictures Inc. All Rights Reserved.

Adonis (Michael B.  Jordan)

In Creed, Adonis was on a journey to connect with the legacy of his dead father, legendary boxer Apollo Creed, by becoming a boxer himself.  He was young, impatient, and hardheaded.  But when Rocky Balboa (Sylvester Stallone), still hurting from the loss of his wife, Adrian, became his trainer and guide on that road to self-discovery, the two men saved each other. Like Rocky in the first film, Adonis lost the fight, but won the more important battle for respect.

In Creed II, Adonis begins a new journey, echoing Rocky's life after his first fight with Apollo Creed.  Now he's a professional boxer in his own right, and he is also in a steady relationship with his girlfriend, aspiring singer/songwriter Bianca.  His challenges in balancing his professional and personal life will be tested when he comes face-to-face with the man who killed his father, Ivan Drago (Dolph Lundgren reprising his role from Rocky III), and his son, Viktor (Florian Munteanu).

"I think the first one was more of an origin story of Adonis trying to figure out who he was, and owning his name," said Jordan. "This time around for him, there's a lot about legacy, family, love, revenge and animosities – that is, a mixture of all those things all tied into one.  But I think all the obvious wants that, I think, fans and people that know the story would have are being addressed in a real creative, sophisticated way."

He continued, "You gotta have grown man issues to deal with when you become a grown man. There's certain things that you just can't address so early, so I think that's one of the luxuries and one of the good things about growing with the character. As I get older I could bring life experiences that I normally wouldn't really l have too much to say on, and be able to bring those things to the screen in a real way and make them as real as possible."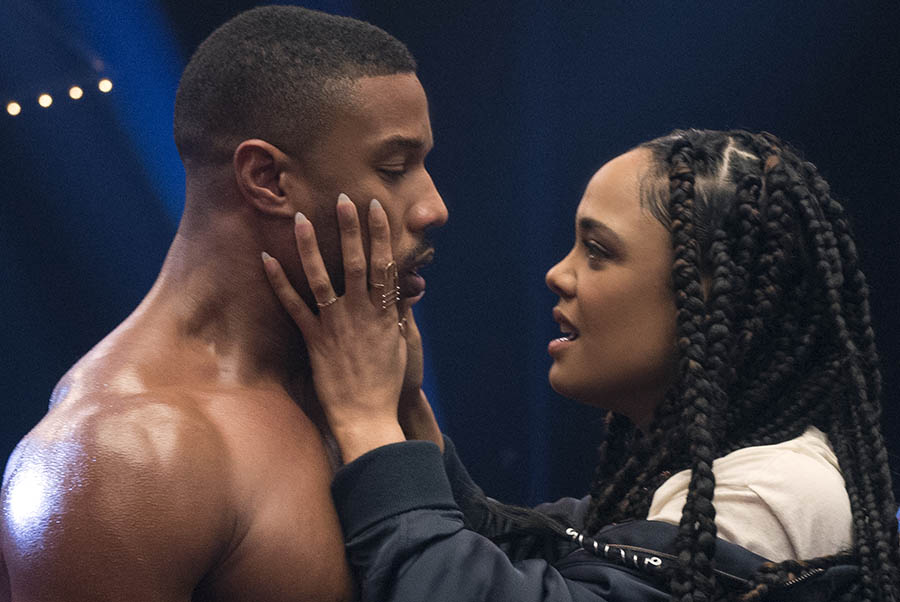 © 2018 Metro-Goldwyn-Mayer Pictures Inc. All Rights Reserved.

Bianca (Tessa Thompson)

In Creed, Bianca is one facet of Adonis' life, the romantic one. Critics and fans agreed that the character of Bianca had potential to be much more, and lamented not having a more fleshed out Bianca and a greater exploration of her life beyond Adonis'. In Creed II, fans will get their wish.  Bianca's career as a singer/songwriter will be a much larger part of the overall story, as will the subject of her hearing loss, and its potential impact on her life and ambitions. Of course, the evolution of the relationship between her and Adonis will still figure prominently in the story.

Opening up about her take on Bianca this time around, Thompson said, "She's grown. She's playing for bigger audiences. She has interests from record labels, and she's sort of at this juncture where she's been an independent artist just making music in her apartment, and has to decide if she wants to work with the record label, work with other people. And then I think that there's some big changes that are happening in terms of her relationship with Adonis and building a family and she's sort of in that space of, 'What do I want as an artist and as a woman of the world?' But also, 'What do I want inside of my relationship and my family and my home dynamic?' And I think that's something that folks can relate to."

Rocky (Sylvester Stallone)

In Creed, Rocky had felt alone for a while, having lost Adrian to cancer. So, it doesn't take much for Adonis to gather him as his trainer since Apollo was his friend. In the process, Adonis becomes more like family. It is Adonis who urges him to seek treatment for cancer and Adonis who helps him beat it. It is the two of them we see together at the end of the film.

In Creed II, the bond is still holding strong but will be tested when the past in the form of the Dragos enters their lives.

"Well, the thing is," says Stallone, "the irony is, as my life evolves, so I find things in the character because right now in the last one, he faced death. He faced mortality and in this one, he's finally completely alone. The only thing he has left is this young man. So, he's now part of the Creed universe. See, the Rocky universe is sort of gone. It's left in the graveyard."

But on still playing Rocky after over 40 years: "I need a lot of rehearsal. What can I say? I got it though. I finally nailed it on the 42nd year."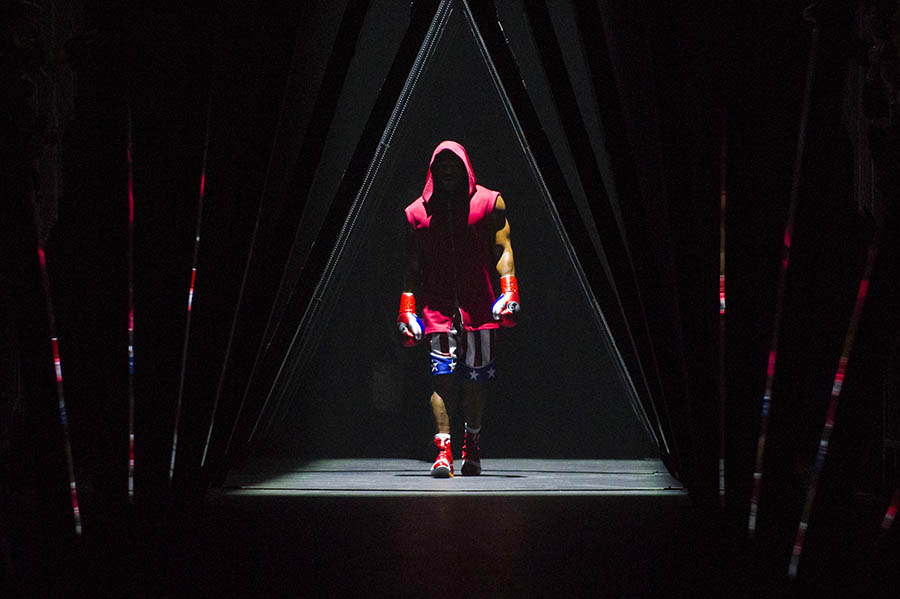 © 2018 Metro-Goldwyn-Mayer Pictures Inc. All Rights Reserved.

The Story

It is ironic that the story was penned by Stallone, but that Creed II is definitely more Adonis and less Rocky – even more so than Creed. Written and directed by Coogler, it deftly paid just the right amount of homage to the history of the franchise in to ensure a smooth transition from old to new. Stallone, though, is ready to move on, saying about Creed II, "I think it's fantastic. I think it's going to be even as good as the last one or maybe even surpass it."

While the cast and director are playing it close to the vest when it comes to details about the film, we know that the story features reappearance of Ivan Drago, along with his son, Viktor, who is also a boxer. Stallone also let us know that the subject of fathers and sons will figure prominently in Creed II. "Do you really have to shoulder the responsibility or the legacy of your father? Are you doing it to be better than your father? Are you doing it for publicity or do you do it because you really feel the necessity to feel vindicated, to avenge him? So, it's this really big, big kind of broad subject."

Caple elaborated, "I will say this: they're [the Dragos] more than set pieces. They're more than props. They definitely have an arc, somewhere to go. Some stuff that you're gonna be really into. Like everyone has, they'l have layers to them. So that was the goal — how to make these dudes layered."

The Vision

It was expected that Coogler or Stallone would direct Creed II, but that was not in the cards, so the producers and Coogler tapped Steven Caple, Jr. to helm the film. It is a plus that he has a lot in common with Coogler: both USC film students a couple of years apart, talented African-American young men of roughly the same age with a passion for filmmaking, and a fondness for the franchise, all of which made it easier for Caple to step into the role of director, but he's definitely bringing some of his own style.

"I think Creed already had a bit of that," said Caple. "It's why it was just so easy to say yes to doing this project. Rocky had that gritty texture to it when it came out, and so when Ryan came in and did Creed, it still had those elements but still appealed to the commercial audience of Vibe, I was like, wow, that's the land I want to play in."

On his approach to filming the boxing sequences, Caple said, "Mike is more experienced since Creed, so we could do some new things that he wanted to try out.  Creatively, as I'm telling the story, angles, lighting, we dived into a bit of a nice little frenzy for everyone to check out.  It's some stuff I guarantee you guys haven't seen before."

The film's stars are definitely excited to be working under Caple.

"The second I met Steven," said Thompson, "I was like, he's the perfect choice.  Also, oddly, not that we need another Ryan Coogler, but they have just bizarre similarities. And then also Steven came in with his own perspective. He has a lot of reverence for the first film, but as a filmmaker, I think he looked the film and said, 'I might've done this differently.'" She also praised his collaborative attitude.  "In terms of taking up space and growth, I feel really lucky working with someone like Steven, who's open to [collaboration]."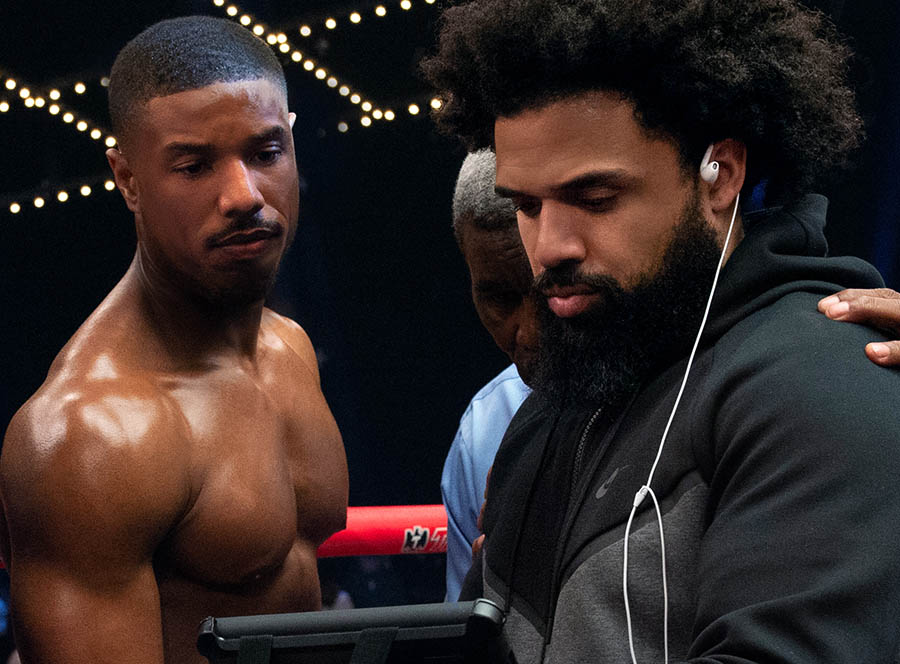 © 2018 Metro-Goldwyn-Mayer Pictures Inc. All Rights Reserved.

Jordan had similar thoughts on Caple. "I know he didn't have as much time as he would like, all of us would have liked, to kind of get this thing together, but he was very accepting of the challenge. He's from Cleveland, went to USC. He was in school the same time as Ryan, who spoke very highly of him. We get along great. I think whenever you're working with somebody in the same generation there's a certain level of chemistry and understanding that just translates to the set."

It was obvious, too, that Stallone and Caple had an easy camaraderie, despite their age difference. Says Caple of Stallone, "[On the film] he's a collaborator. He's a guru. Me and Mike, we'll go to Sly and be like, 'What you think?' He'll be like, 'It's like this, young bucks.' He teaches. No, legit, he'll stay to the side and he'll legit ask like, 'Man, I'm not— if you want my opinion on this, here goes this. If not…' he's legit just quiet. I enjoy every take. Sly is also a filmmaker, a writer and director, and so he did this thing where he was always like go to his mark, doing his thing, and when I want his feedback I'll be like, 'Come behind monitor so you can check it out with me.' Just vibing off each other and we create something new. He lives up the hype. He's really an old school cat, which is really helpful to have on set and fun. Dude's a firecracker. Nothing's slowing this guy down."

"I was going to direct it," admitted Stallone, "but I realized youth must be served and this kid had such a great vision and a kind of energy, because doing this kind of film is incredibly taxing because you're doing this and the drama, so you're doing two movies, so it takes at least six or eight months, maybe a year of prep. So, people will be on this thing for two years." He continued, joking around with Caple on set, "He works cheap.  I said, 'Just for food. Food and shirts. That's it.' No, he's fantastic. This guy, I don't know how he does it. I swear to God, he just never stops."

The Music

Just as in Creed, music will figure prominently in the film. Tessa Thompson delivered some ethereal vocals in Creed and left audiences wanting more.  Of course, she will be singing again in Creed II, performing at least two songs, but other songwriters have been brought in as well.

Caple directed a Netflix docuseries on rapper Logic, called Rapture, and has directed a number music videos, so music is more than just underscoring for him so don't be surprised if there are moments visually evocative of a music video.

Says Caple, "It's gonna be so good. I'm a big music-head, which is why I did Rapture. My last film I worked with Nas. We curated the soundtrack together. So, this new one is gonna be good. It's gonna be a lot of artists. It's speaking to our generation, lot of millennials. A lot of original stuff. You're gonna have a wide span to listen to with a range of artists that we're all excited to work with, collaborate with."

Based on everything I saw and heard on the Creed II set visit, it looks like Rocky's past and Creed's future is in good hands. The film is in great shape, with everything it needs to deliver a powerful one-two punch with audiences and critics alike this November.